Summer School
The Summer school on Plasma medicine will be held in the weekend prior to the Conference, on the 25th and the 26th of June 2022.
We are proud to present the following speakers and the topics of their lectures:
1. Prof.Dr. Alexander Fridman: Fundamentals of atmospheric pressure plasmas
2. Dr. Matteo Gherardi: Plasma sources for biomedical applications
3. Prof.Dr. Petr Lukeš: Plasma liquid interactions, plasma activated liquids
4. Prof.Dr. Cristina Canal Barnils: Plasma-cell and plasma-tissue interactions - biological and biochemical reactions
5. Prof.Dr. Robert Short: Plasma-surface interactions/modifications for biomedical applications
6. Dr. Daniela Boehm: Plasma-based decontamination and sterilization
7. Prof.Dr. Julia Bandow: Plasma for pharmaceutical applications, biochemical and biomolecular engineering
8. Prof.dr. Thomas von Woedtke: Plasma medical applications - clinical and animal studies
9. Prof.Dr. Nevena Puač: Plasma agricultural applications
10. Prof.Dr. Carola van Pul: Regulatory issues and standards for medical devices
Below is the schedule for the Summer School.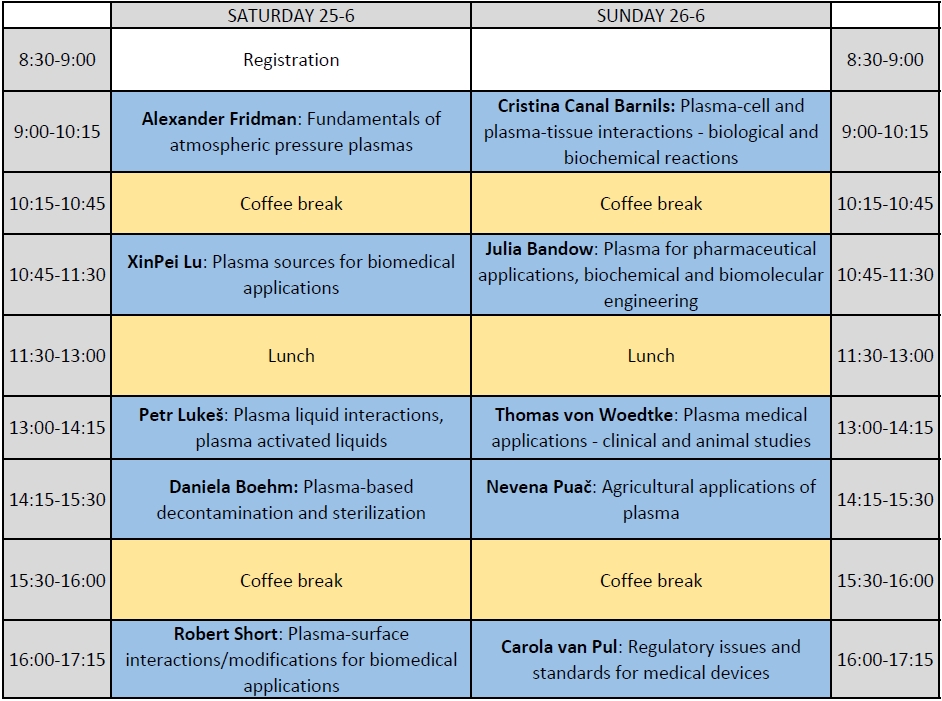 International Conference on Plasma Medicine

Registration website for International Conference on Plasma Medicine
International Conference on Plasma Medicinereservations@tue.nl
International Conference on Plasma Medicinereservations@tue.nlhttps://www.icpm9.eu
2022-06-27
2022-07-01
MixedEventAttendanceMode
EventScheduled
International Conference on Plasma MedicineInternational Conference on Plasma Medicine0.00EUROnlineOnly2019-01-01T00:00:00Z
To be announced
To be announced